Louisa Hurt (Hortt)
Dofflemyer Dille Holbrook
1822 - 1903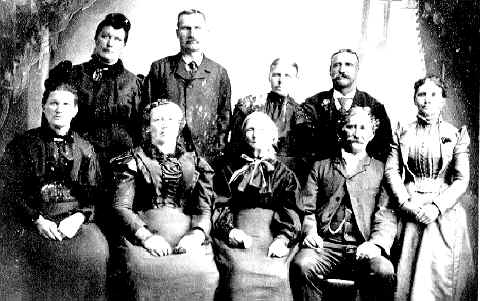 Seated, left to right: Esther Dille Phillips, Clerinda Dofflemyer Hardy, Louisa, David Brigham Dille and his wife, Emily Tuttle, who is standing by his side.
Standing: Josephine Elenor Dille Moss and her husband, Hugh Moss, one of George's wives (not certain which one) and George Washington Dofflemyer.
written by Varla Wright, a descendant of Louisa and Joshua Dofflemyer

Louisa's original maiden name was Hurt and she was born in the Blue Ridge Mountains of Madison County, Virginia on 4 Jun 1822 to Nancy Hurt. Her father is unknown. She may have had a twin sister, Lutie or Lottie, who appears to have died as an infant. The story the family told little Louisa was that her father had committed suicide and his name had been blotted out of the records for such a disgrace. I really don't believe that was the case. But her mother and her mother's family did indeed bury that piece of scandalous information deeply.

Louisa was raised by her plantation-owning maternal grandparents, James Hurt and Frances Thomas Hurt until she was fourteen, when she caused no end of family consternation by marrying a young German-speaking cobbler, Joshua Dofflemyer who was ten years her senior, and definitely considered to be below the family's social standing. Her step-father, Enoch Jenkins (who had married her mother in 1826) signed the permission for her to marry as a minor.

Her first child, my great grandfather Henry Jefferson Dofflemyer, was born 31 Aug 1839 in Page Co., Virginia, and Louisa shortly after that moved with Joshua's parents and siblings (large family) to Lee County Iowa, just across the river from Nauvoo. Her next three Dofflemyer children were born in what is now Van Buren Co., Iowa. Joshua died 10 Feb 1847, leaving her to support her three remaining living children by making shoes, having learned the trade from him. She also lost infant twins about the same time as her husband's death.

It appears that shortly after his father's death, Henry was apprenticed out to a local tradesman, with a contract stating that he was to remain with the tradesman until he became of age.

One night, Louisa dreamed that she was walking in the town and saw a meeting taking place in the local bowery. It was impressed on her that it was very important to attend this meeting. The next day, she asked around, and learned that a meeting was indeed scheduled for that place. She did attend and listened to the gospel being preached by two LDS missionaries. She joined the Church, and was urged to go with the Saints to Utah. Her husband's family was not at all happy with this turn of events, nor was the apprentice master. Henry would not be allowed to go with her and the other two small children, George Washington and Clerinda Jane.

She prepared her wagon and goods for the trip, then stopped that night at the home of the apprentice master, explaining that she had come to say goodbye to Henry. Once in his sleeping quarters, she dressed him as a girl and pushed him out the window, instructing him to get in the wagon and hide. She then carried on a conversation while making his bed look as if he were asleep in it, and departed, explaining that he was very sad and had cried himself to sleep.

She then joined the immigrant wagon train, registering with the wagon master under a slightly disguised version of her maiden name...thus Hort. The apprentice master came after her with a sheriff's posse, but was unable to locate a wagon with the Dofflemyer family. And so she made good her get-away and traveled on to the Salt Lake valley.

She eventually married David Buel Dille, with whom she had six more children. They were divorced when she refused to leave the Ogden area and go with him to Idaho. It is interesting that in his journals, he refers to her as "the widow woman I married". Never once does he refer to her by a name. I believe there is a biography of her in the DUP archives, written by one of her Dille granddaughters.

Following her divorce from Dille, she married Judge Holbrook. They never had any children together. She is buried along with him and his other wives in the Bountiful Cemetery.

The "Hortt" spelling was manufactured by my grandmother and her older sister, daughters of Henry Jefferson Hort (he kept the name) when as young girls, they thought that spelling the name with two "t's" might give them more social status in a community where the Pratts were community leaders. However, Henry and his wife, Bethana Bailey, recorded the family name in the family Bible as Hort with one "t". So much for the claims, "Our family always spelled it THIS way"!

Louisa's Hurt ancestry has now been researched back to the 1400's in England.


Additional information sent about Louisa:
Louisa left many questions unanswered, the primary one being who her father was. She told her family that he was a suicide and that she had a younger sister who stayed with her mother when the mother remarried Enoch Jenkins. Louisa was reared by her grandparents, James and Frances (Thomas) Hurt, who died when she was fairly young.

Little documentary evidence has been found about her origins, but her information did lead to the identification of her mother's family. When a marriage bond was posted for her marriage to Joshua, the surety was a William Jenkins who was a member of her step-father's family. Her step-father, Enoch Jenkins signed permission for her marriage. She was born in the Blue Ridge Mountains on the Madison County side, probably within the boundary of what became the Blue Ridge Parkway. as there were still Hurts there who were dispossessed when the park and road were constructed.

All LDS church records indicate that she gave her father's name as James Hort, which was a version of the name of her grandfather, James Hurt. Her Endowment House Record shows the names of James Hort and Nancy as her parents. The East Bountiful Ward Record show that she listed her parents as James Hortt and Nancy Hortt. On several occasions she gave her grandmother's name, Frances, as her mother's name. She was proud of her family who had come to Virginia in the early 17th century (1650) from Bristol, England.

Louisa and her children joined the LDS church in 1847 and crossed the plains in 1850. She traveled in one of David Dille's wagons, and when his wife died on the trail, the two families joined forces, encouraged by Brother Dunn, the leader of the party. They lived together in Ogden for a number of years where she bore Dille a family of six children and supported him on a mission to England with her shoemaking skills--which she had learned from her first husband. The couple later separated, and she married Judge Joseph Holbrook as a plural wife. She died in Bountiful, Utah at the age of 83. She is buried in the Bountiful Cemetery under the name of "Hoit".

She appears with her maiden name in the 1900 census of Bountiful. David Dille's history in the DUP museum asserts that she left him when he decided to move to Cache County, and then to Idaho. He does not refer to her by name, but only as "the widow woman."

She appears in the 1850 territorial census of Weber County, Utah in the home of David Dille with her children. They are shown as Doffhiner [probably due to the southern accent being misinterpreted] In 1860 Louisa Dille age 40 is living in Ogden while David B. is in Cache County.

Louisa's obituary (sent by Pearl Oldham):

The funeral services over the remains of Mrs. Louisa Hoyt Holbrook, who died Feb 5, 1903, were held in the tabernacle at East Bountiful, last Sunday at 2 p.m. and were very largely attended. The speakers were Elders Brigham A. Holbrook, Thos. Phillips (of Porterville), J.J. Holbrook and Home Missionaries Wilcox and Robinson from Farmington.

Deceased was born 4 June 1820 in West Virginia, near the Blue Ridge mountains, which would make her nearly eighty three years of age.

At the age of about fifteen she was married to Joshua Doffelmier and moved to Iowa. Here she buried her husband and two of her children. She then joined the Church of Jesus Christ of Latter-day Saints starting across the plains with her three remaining children--two sons and a daughter. On this journey she met and married D.B. Dilley who was then a widower with three children.

They located where Ogden now stands, in 1850. Theirs was the second lumber shanty erected in that place, however, there were a few brush huts. In 1858 they moved south but returned to Ogden. Finally moved to Bountiful where she has been living for forty years. Three children were born to them.

About thirty-nine years ago, she was married to the late Judge Holbrook.

Louisa's children with Joshua Dofflemyer were (1) Henry Jefferson, (2)George Washington, (3) Clerinda Jane, and the twins (4) Joshua and (5) Waring who died shorely after their births in 1847. Her children with David B. Dille included (1)Esther, (2) Israel, (3) David Brigham, (4)Arvis, (5) Josephine Elenor and (6) Ruth.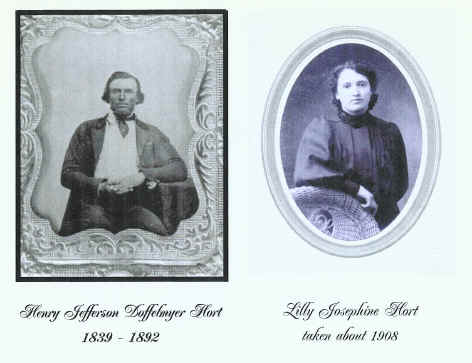 Henry Jefferson Dofflemyer Hort (the one who dressed up like a girl to escape his apprentice master) and his youngest daughter, Lilly Josephine. Henry Jefferson also learned the shoemaking trade, and when the United Order where he was living in Orderville broke up, he was paid his share of the goods in leather, which he took to Fredonia, AZ and was a shoemaker there when not busy farming.